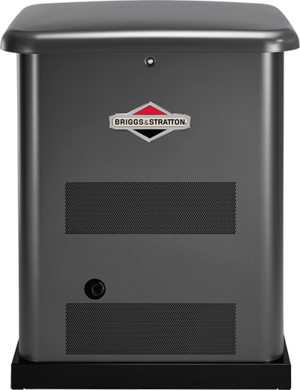 Everything you see on this website, all the wires appliances we install — they all mean nothing without electricity! It'd be a shame to see all of that great work go to waste, but that's not why so many of our customers ask about generator installations. The fact of the matter is that Florida has experienced more hurricane landfalls than any other state in the U.S., and it's our neighbors who often bear the brunt of extreme weather events.
One great way to minimize the damage and inconvenience often caused by tropical weather is with a portable or whole-home standby generator by leading manufacturer Briggs & Stratton.
Whole-Home Standby Generators
Depending on the model selected, a whole-home standby generator can provide enough power for virtually every appliance in the home or just the necessities like the refrigerator. Action Electric & Air will not only help you choose the whole-home standby generator that's right for your needs; we'll also install it and provide all the necessary connections and surge protectors.
Portable Generators
Whether you run a business that depends on portable power sources or just love tail gating Dolphins and Gators games, Action Electric & Air has a portable generator to suit your needs. No installations required: just fill her up, plug in your appliances, pull the chord and enjoy the power of a Briggs & Stratton portable generator.
Generator Service & Maintenance Plans
In addition to selling and installing generators, Action Electric & Air provides complete maintenance and repair services. For the most reliable performance, we recommend enrolling in a Generator Maintenance Plan that provides regular inspections, as well as fuel and filter changes. Contact us today for more information.