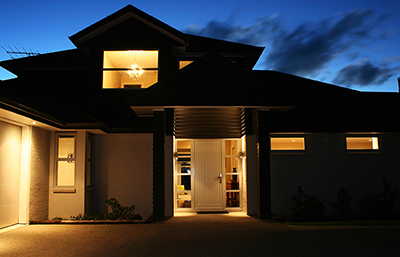 If there is one component of modern life that truly bridges the gap between necessity and amenity, between function and form, it is lighting. Homeowners and professionals everywhere depend on light fixtures on a daily basis. Lighting enhances safety, security and comfort, but it can also serve as a representation of artistic sensibility, home décor or business culture. It is equally important to individuals, families, companies and industry.
Action Electric & Air has lighting solutions for all, from under-cabinet lights to exterior lighting of various shapes, sizes and intensities. We also carry motion lights for added security.
Indoor Lighting
Action Electric & Air specializes in accent track lights and under/over-cabinet lighting. These versatile fixtures can be seamlessly integrated into virtually any interior design. Their sleek design is perfect for modern homes, but remains adaptable to almost any room layout. Ask Action what our indoor lighting solutions can do for your home and place of business.
Outdoor Lighting
Outdoor lighting is an integral feature of any landscape design, as it provides a layer of safety and security while simultaneously directing visitors' attention to those features of the home or structure that the owner wishes to highlight. Pathways, gardens and decks are all brought to life by landscape lights, which can set the mood for all manner of after-dark activities, from cookouts to pool parties. And for all you seafarers out there, we also offer dock lighting.
Motion Lighting
Tired of stumbling over your walkway because you forgot to leave the porch light on? Or maybe you just want to add another layer of security to your home. In either case, motion lighting provides a valuable solution. Action Electric & Air can install motion lights on their own or as part of a complete home security system.